Welcome to my new regular Wednesday evening blog.
We've all heard of 'something for the weekend' and 'The Friday Night Project'. Well this is The Sunrooms' version, of that concept, especially compiled for obsessive crafters everywhere. The intention here is for you to get your inspiration 'mid week' so that you can plan your crafty weekend in advance.
The blogs and/or sites compiled here will be completely at at my own discretion and recommendation and will never be influenced by any incentive other than 'I enjoyed that particular blog at that moment in time'. If you have arrived here then your interests will no doubt, I suspect, be similar to mine.
Feel free to recommend a blog or even your own blog and time permitting I will visit. I will try to let blog owners know in advance so that they can utilise any additional traffic. I hope that you all enjoy new inspiration and ideas every week and that you find new crafters and bloggers to follow.
URL suggestions to
thesunroomuk@googlemail.com
Please feel free to copy and paste the Wednesday Night Project button into your blog. Click on the buttons at the foot of this page and follow the instructions on how to complete this.
Handmade By Mother
This site is so fascinating if you are into any type of knitting or crochet 'Vintage' style. I'm so pleased this lady is OCD about her blog and her interest in these patterns. Excellent.
After spending a few frustrating moments trying to teach a small person how to crochet this week, with bitten lip and very little patience. I realised it's important to celebrate everyone's attempts at craft.
The Friendship Scarf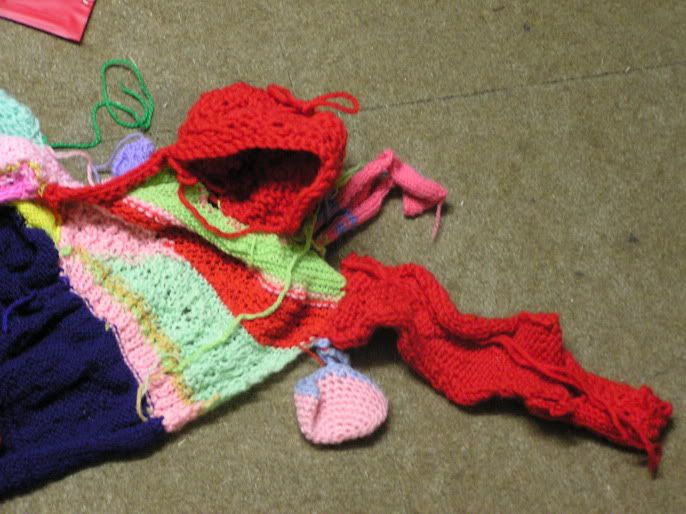 Here's another link to a site I came across and just found it interesting.
Urban Knit
Another interesting and inspiring site that caught my eye.
Crafts of Texture
Here I found some intriguing artwork too.
Trashy Princess
I really liked some of the images and textiles at this blog.
Take a look at
Petal Textiles
This week Little Lou debates collecting over hoarding. I loved the Russian dolls.
Little Lou's Knits & Nags
I hope that you all find something interesting and of course inspiring here. I'm in a bit of a rush as ever to get this posted before midnight – i.e. Thursday.
So enjoy.