From
The Weekly Times
:
Jim Simpson would have to be the toughest man to ever pick up a pair of knitting needles.
The former prisoner of war, who spent more than 19 months in Germany's World War II prison camps, not only survived interrogations and torture but managed to knit arguably Australia's most valuable war artefact, outside a museum.
Jim's rug is a perfectly preserved 1.83m x 1.9m knitted woollen blanket, featuring the map of Australia and the Coat of Arms.
"I knitted it with straightened handles from the camp's cooking pots; they looked like pieces of number eight wire," Jim says.
"The cook agreed to give them to me if I knitted him a pair of socks."
Jim credits his mum and his practical bushman's upbringing in the Nariel Valley, near Corryong, for his knitting skills.
"It's one of those things, if you pu t your mind to it, you can do it. I could even turn the heel of a sock as a kid," he says.
To read more
http://craftivism.com/blog.html/2009/11/knitting-from-nothing-rug-made-by-wwii-prisoner-of-war/

The rebel within
It's knitting, yes, but not as we know it. Bibi van der Zee finds out more ...
The Rebel Knitters Guide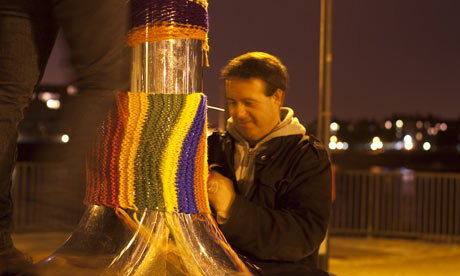 Mark Thomas joins the guerrilla knitters
For the braver or sillier souls among us, darkness provides the perfect cover for a little mischief, as Mark Thomas finds out London is perfect at 3am. Sober bourgeois mores are tucked away, fly-by-night revellers and office parties have crashed and burned, and City wide boys have barked their babbling directions to cabbies. All that is left at this hour are the serious drinkers, rogues and lovers, mingling with the flotsam and jetsam of the night shift.
In my 20s this is when I felt most ownership of London, when those who genuinely owned and controlled the place were out of the way, or at least thinner on the ground. A time when every other soul was intoxicated and the hour made comrades of us all. It felt as if the city was a playground for us to enjoy.
To read more
http://www.guardian.co.uk/lifeandstyle/2009/nov/01/mark-thomas-guerrilla-knitting