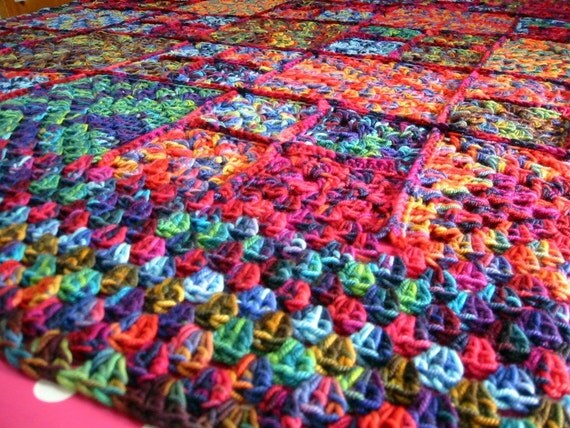 Here is an absolutely stunning granny square blanket made using mirasol hacho 100% pure wool. The blanket is constructed using various sizes of ganny squares and various shades of Mirasol hacho yarn. The colours are beautiful, opulent and create a kaleidoscope or cornucopia of colour.
Blanket measures 130cm square approx. The blanket can be crocheted together as shown in the photographs with top stitch textured detail or alternatively crocheted together as I go so there would be no top seam.
Mirasol project details can be found here - http://www.mirasol.com.pe
The Mirasol Project - The philosophy behind the Mirasol Project is very simple, the Mirasol Project supports local communities in Peru through the sales of the Mirasol Yarn Collection.
Peru's heritage and culture of textile artistry is rich and ancient. The Mirasol Yarn Collection includes yarn made from the animals tended by these communities for generations in the Peruvian highlands. Without them we would not have this beautiful yarn.
By purchasing the Mirasol Yarn Collection you are supporting the shepherds and their families ensuring the continuation of this tradition.
A portion of every purchase goes directly to the funding of a centre in the remote area of Munani in the region of Puno.