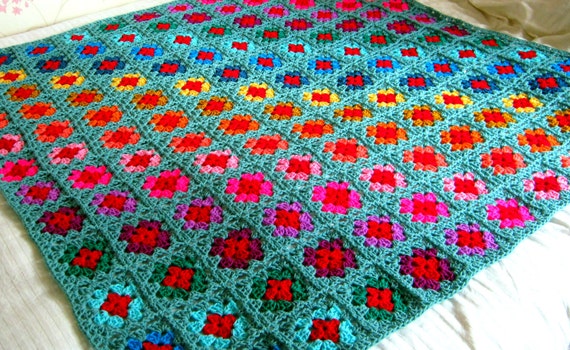 Here is a rather special Sage 'Wisdom' blanket. A really gorgeous array of colours. 12 rows of 12 squares in total 144 squares. All the squares have been crocheted together using sage yarn. The border has one row of red from the center of each square and then multiple rows of sage for a thick border, completed with a rown of single crochet in cherry red.
Measures 56" x 56"
This is a beautiful contemporary take on a traditional granny square blanket. Perfect for any home would also make a wonderful teenages dorm blanket etc. I also think it would be a fabulous Yoga blanket. The blanket will last for many years and is sure to become a treasured heirloom to any recipient.
Made using good quality acrylic yarn it is both soft and warm. Machine washable and can be dried at low heat, though also air dries very quickly as well.