Here's a new e-book of crochet flowers and includes one of my crochet patterns.
With How To Crochet: 14 Flower Crochet Granny Squares, you'll discover new and exciting ways to crochet flowers. Some are three dimensional; others are crocheted right into the square. There are so many options; you'll have to look at all the patterns before choosing which one to start with. These free granny square patterns burst into life when you pick up your crochet hook. From beginner crochet patterns to a little more advanced, there is a flower crochet pattern here for everyone. Each crochet pattern is a little different from the next so there are plenty of options. It's a wildflower garden of crochet flowers and it's up to you to pick your own bouquet.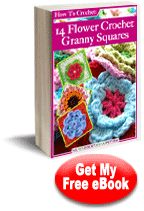 With your free copy of How To Crochet: 14 Flower Crochet Granny Squares eBook, you can also subscribe to Laying It All Out newsletter to become part of a fabulous and friendly crochet community. In subscribing to the newsletter you will receive:
• Four weekly emails with free crochet patterns, tips, collection pages, videos and more.
• New FREE crochet afghan patterns made available to you throughout the year.
• Access to our free crochet afghan pattern library full of 1000's more free crochet patterns.
• The opportunity to share ideas and help others in the crochet community.

So join in on the fun and download How To Crochet: 14 Flower Crochet Granny Squares eBook now, it's free! While you're at it, be sure you subscribe to receive our newsletter Laying It All Out, too. Don't wait any longer, all the free crochet afghan patterns, flower crochet patterns, baby blanket patterns, and more are right at your fingertips. These free crochet patterns will not only make you a better crocheter but they will bring inspiration for future projects!
Read more at All Free Crochet here.
How To Crochet: 14 Flower Crochet Granny Squares eBook | AllFreeCrochetAfghanPatterns.com