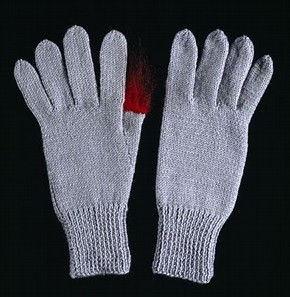 'Conrad' gloves by Freddie Robins
'Conrad', knitted gloves, Freddie Robins, 2005 (click image for larger version)
Freddie Robins's subversive knitting includes a series of gloves where pairs join, single gloves have ten fingers or each finger sprouts a new glove.
'Conrad' is a character from the 19th century book of cautionary tales, Struwwelpeter, by Dr Heinrich Hoffmann. Conrad's mother warns Conrad that if he continues to suck his thumbs the scissor-man will come and cut them off. He ignores her warnings and 'Snip!
Snap! Snip!' he loses his thumbs. .
Materials
50g (2-ounce skein) 4-ply wool
Small amount of red mohair
Pair of 2 3/4 mm needles (No.12 / US 1)
Large darning needle, for sewing up
Wire brush, for brushing up mohair
Tension (Gauge)
32 sts. to 10 cms. (4 ins.) approx.
Abbreviations
cms. = centimeters
ins. = inches
k. = knit
p. = purl
st. = stitch
sts. = stitches
st.st. = stocking stitch (1 row k., 1 row p.)
tog. = together
inc. = increase
dec. = decrease